Prior to 2005, the Alden Horizon's production was discontinued. Though the Alden Horizon cannot be purchased new, we often carry used Alden Horizon rowing shells. Please check our used boat page.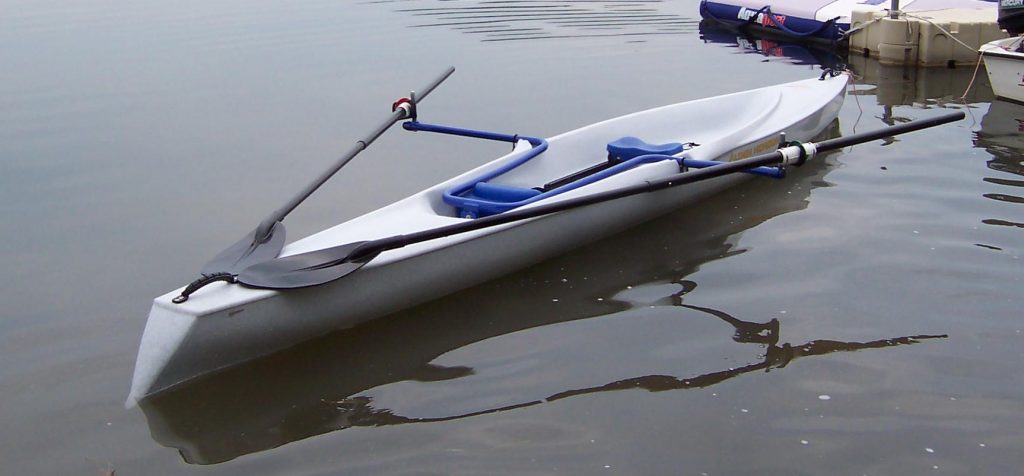 A great boat for beginning rowers. A fully equipped sliding seat sculling boat at a great price.
The Alden Horizon is the first rotationally molded rowing shell built in North America. It is rugged enough for family and club use –  a great way to get into rowing at a great price.
SPECIFICATIONS:
Length: 17′
Beam: 25″ at waterline; overall beam 27″
Hull Weight: 70 lbs rigged
Capacity: 225 lbs
Hull Construction: Rotational molded polyethylene hull with removable, one-piece tubular anodized aluminum rigger, molded polyethylene foot stretcher unit and composite seat.
STANDARD EQUIPMENT:
Self-bailing hull
Bow line for temporary tie-ups
Quick release rigger for easy transport and adjustments
Port and starboard carrying handles
EZ Grab all weather handles installed
Color: Yellow, Red, Granite
Last Known Pricing For a New Alden Horizon (2005): 
$2,499
 Hull and Rigging
              Guaranteed Lowest Freight on used Alden Horizon Shells
Do you have to trailer your boat to the water? Check out the Trailex Trailers. These trailers are perfect for towing. Lightweight and easy to manage.
Do you need a boat rack or slings for storing your boat, or a boat dolly to move your boat around on land? Take a look at the our Rowing Accessories Page!
Give us a call at 518-745-7699 (ROWW)