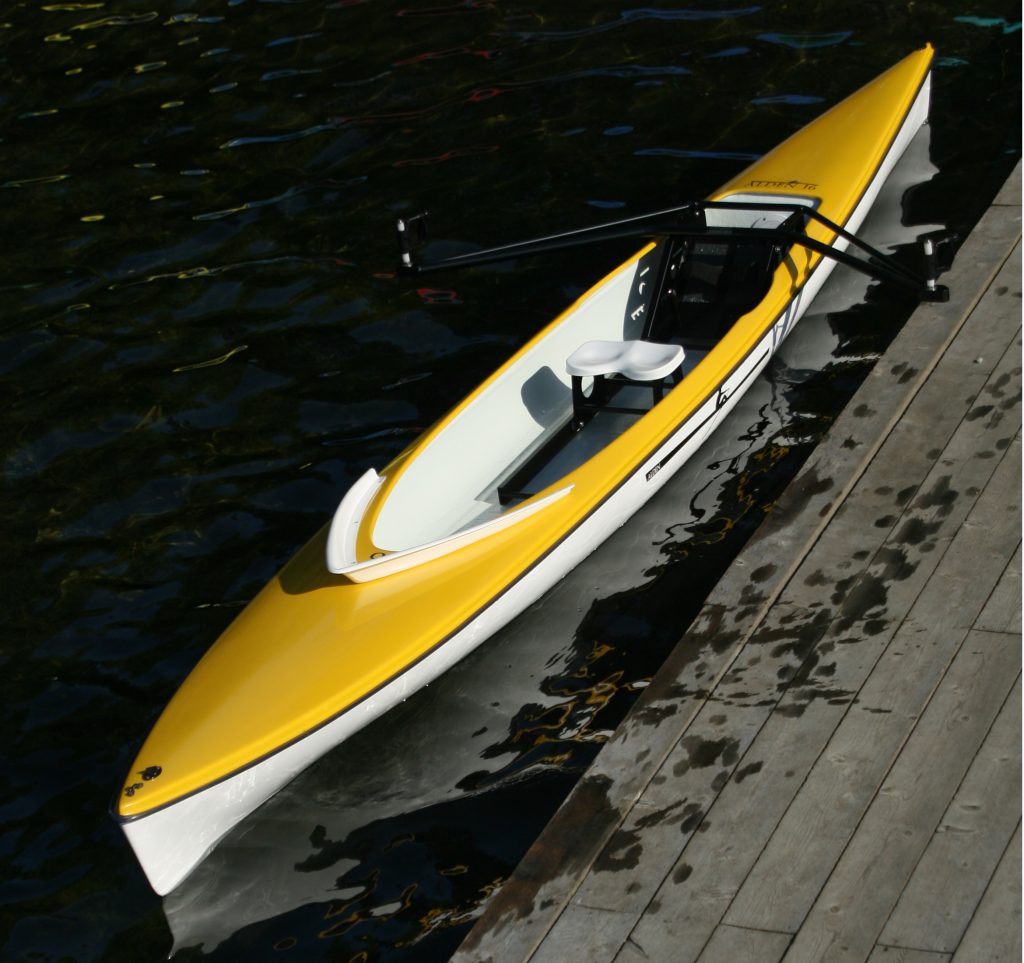 The Alden Ocean Shell Single is the most popular recreational rowing shell in the world. It delivers satisfying speed and can be rowed by anyone, anywhere, anytime.
The exclusive hull design is the key. The flared bow lifts the boat over waves and the flat bottom provides stability and speed. The manageable length and hull weight make the Alden Ocean Shell Single easy to transport so you can row where you want to. The dropped stern design eliminates the need for a skeg so it launches easily from a beach. The Alden Ocean Shell Single uses the Oarmaster drop in sculling system. Weighing only 18 lbs, this self-contained sliding seat unit can be inserted and removed in seconds. 
Thousands of people row the Alden Ocean Shell Single. They race them at the Head of the Charles Regatta, they tour in them all over the U.S., as well as in far off locations such as the Island of Truk in the Indian Ocean and Bora Bora.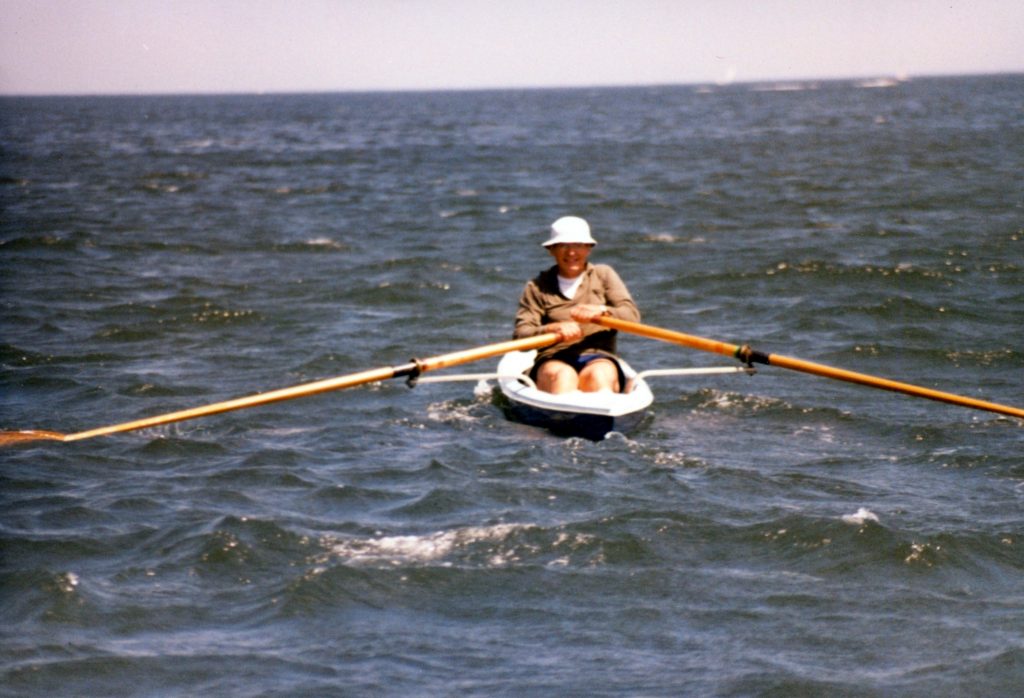 "Jim: 35 years of rowing on the Long Island Sound in his Alden 16."  
Jim got it new in 1975! at age 47 and rowed until he was 82.
SPECIFICATIONS:
Hull length: 16′
Waterline beam: 24″
Overall beam: 25″
Hull weight: 40 lbs
Maximum rower weight: 200 lbs
HULL CONSTRUCTION:
Hand laid fiberglass
Thermoplastic polymers, marine finish
12-14 mm gel coat finish
Fore and aft bulkheads with positive foam flotation
SPECIAL FEATURES:
Access port and storage bag
Bow line
Rub rail
Integrated keel
Color Combinations: Deck Color: Classic White, Ocean Blue, British Racing Green /  Hull Color: Classic White
Pricing for the Alden Ocean Shell Single:
$3,400     Alden Ocean Shell Single Hull including factory installed self bailer
$   875      Oarmaster V Sliding Seat Rowing Unit
$   660      Dreher carbon fiber, adj. handle, lt-weight macon oars (Hatchet available)
$4,935      Total boat purchase
Do you have to trailer your Alden to the water? Check out the Trailex Trailers.
These trailers are, lightweight and easy to manage. Perfect for towing!
Do you need a boat rack or slings for storing your boat, or a boat dolly to move your boat around?
Take a look at the our Rowing Accessories Page!
Guaranteed Lowest Freight
Or Call Us! 518-745-7699 (ROWW)