If you are interested in Dreher's Macon Oar please click here.
The Dreher Little Big Blade Sculling Oar was initially designed for European Touring scullers and has become a favorite open water and recreational design in the United States. This blade shape appeals to youth scullers, lightweight women, as well as touring rowers. We have found the Dreher Little Big Blades are appropriate for recreational rowers and open water rowers that enjoy the hatchet shape feature. Dreher's Little Big Blade has a blade area almost identical to the Big Blade, but it is the narrower version.
Dreher's ultra light oars are made of 100% carbon fiber and weigh only a few pounds each. They are the perfect oar for the rower that enjoys flat or calm water.
If you prefer the Dreher macon blade, the traditional recreational oar, please check out our Dreher macon blade page.
Unique to Dreher oars is the molding phase where all shafts are autoclave cured at high temperature and pressure for maximum strength and durability. The completely modular system allows for custom tuning of length, handle size, blade type,and blade pitch; providing the sculler with versatility while maintaining cost efficiency and high performance standards. Only the best carbon prepreg from the largest supplier of carbon prepreg in the world is used to make Dreher Oars. All the major components are made from prepreg carbon, and the blades consist of a specially formulated proprietary core that is in-situ molded of syntactic prepreg carbon to obtain the highest quality with the desired strength, weight, weight distribution, durability, and surface finish.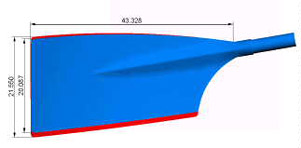 Pricing for Dreher Little Big Blade Oars:
$690   Dreher Little Big Blade Sculling Oars – per pair
Adjustable handle sculling oars can be shipped via UPS..
Or Call Us! 518-745-7699 (ROWW)