Echo Rowing has found kayakers are expressing more and more interest in converting to rowing not only for the health benefits, but for the increased distance that can covered in a rowing shell versus a kayak. The Islander is the answer to their search for a faster boat that has more storage capability. Echo Rowing has been able to effortlessly load a 5-person tent, sleeping bag, pad, hike-stove, fuel, water, camera, food, and change of clothes for a week in the Islander hull.
Don't need all that storage room? Check out the
Echo Classic
and the
Echo Sport.
The Islander has the ability to take you to picturesque locations – or perhaps a quiet lunch cruise away from the busy harbor. The Islander appeals not only wanderlust travelers but to long distance rowers and paddlers alike by solving water-tight storage needs and complicated rigging problems.
Fully rigged the Islander weighs 60 lbs, making this shell easy to maneuver on land as well as loading on top of your car for excursions away from home. Whether you are gearing up for a day trip, island hopping this summer or are in search of a boat to take you from "erg" to "oar", the Islander is for those in search of the perfect boat to take you to your weekend getaway further, faster.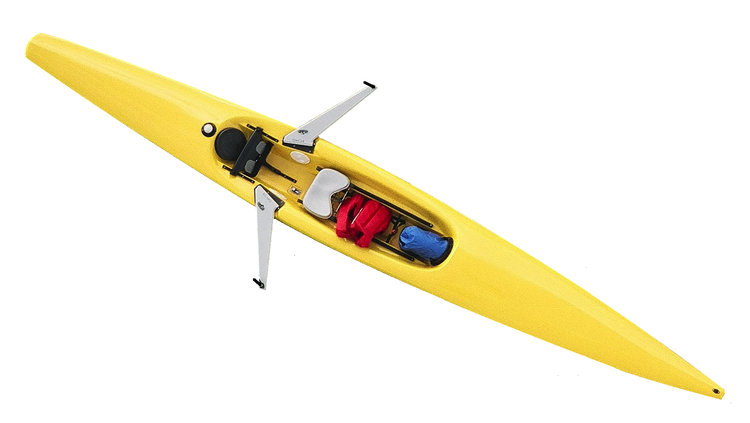 Two 7.5 inch water tight Kayak Sport hatches allow full access to both ends of the shell. A six foot fishing pole easily stows forward with room for tackle or camping gear. Convenient room under the seat tracks makes your day or immediate needs readily accessible – water, a snack, a jacket above the tackle box. The aft hatch serves for storage of overnight gear or gear needed while ashore.
Specifications:
Length: 18 feet
Waterline Length: 17′ 3″
Beam on Deck: 26″
Beam at Waterline: 21″
Hull Weight: 66 – 78 lbs
Capacity: 260 lbs
Equipment:
Echo Folding Rigger System ™ – composite construction with Concept II locks
Wood Clog Foot stretcher
Fiberglass Seat
Over 5 cubic feet of storage fore and aft
Rigger restraining strap – orange buckle doubles as Coast Guard approved whistle
Built in suction bailer (standard)
Seat (fiberglass and foam composite)
Carrying handles built into bow and stern
Two 12′ pieces of line for tie down or tying to dock
Pricing:
 Guaranteed Lowest Freight
Do you have to trailer your Echo to the water? Check out the Trailex Trailers.
These trailers are lightweight and easy to manage. Perfect for towing!
Do you need a boat rack or slings for storing your boat, or a boat dolly to move your boat around? 
Take a look at the our Rowing Accessories Page!
Or Call Us! 518-745-7699 (ROWW)