The MAAS Classic Aero has since been discontinued in 2017, however there are used MAAS Classic Aeros available that will continue to be a joy to row for many years to come. Please check our used boat page!



The

 MAAS Winged Aero

has all the great features of the 

MAAS Classic Aero but with a single wing

.
The MAAS Classic Aero is a great all around shell. Stable enough for a dedicated novice to learn to row, the MAAS Aero has also enjoyed years of racing and touring.
Have you broken one of your riggers on your Classic Aero?
MAAS has designed a Classic Aero Wing Adapter that allows a wing to be mounted on Classic Aero.
Pricing $495
.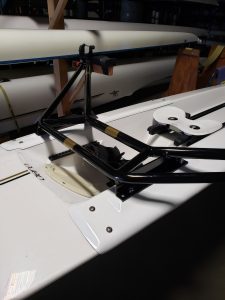 At rowing clubs and schools across the United States, the MAAS Aero is commonly in heavy demand while other more expensive and less forgiving shells stay on the racks. 
A fully rigged weight of 40 lbs makes transportation easy and at 21'3″, car topping is no problem.
Aesthetically, the MAAS Aero's design is very clean and uncluttered and is enhanced by the beautifully crafted carbon fiber composite riggers. 
The MAAS Aero offers the quick responsive feel of MAAS's higher performance boats yet is less demanding when the water is rough. In the words of Olympic Rowing Medalist Dick Lyon, "They're just plain fun to row."
SEAT: carbon fiber – this design is the best we've found for long distance rowing.
FOOT STRETCHERS: Carbon fiber/fiberglass cored construction, neoprene and velcro foot straps – easily adjustable over a 7.5″range – adjustable heel cup height.
INSPECTION PORT: 6″ diameter – comes with an integral nylon bag for wallet, keys, etc.
SELF BAILER: Optional, very useful for choppy conditions – a must for open water racing – suction type, 4 oz.
SKEG: Larger aluminum model aids in rough water tracking.
HULL AND DECK CONSTRUCTION: Syntactic foam core fiberglass, carbon fiber reinforced, acrylic modified epoxy resin, 4-6 mil get coal finish
POSITIVE FLOTATION is provided by four air bags.
OUTRIGGERS: Uni-directional carbon fiber, acrylic modified epoxy resin – very stiff and light.
OARLOCKS: Adjustable for height, pitch, and spread (153-160 cm).
SPECIFICATIONS: 
— Length: 21'3″
— Beam on deck: 25″
— Beam at waterline: 19″
— Weight fully rigged fiberglass model : 42 – 44 lbs
— Weight full rigged carbon model: 38 – 40 lbs 
MAXIMUM ROWER WEIGHT: 240 lbs
Pricing:
$6,200     MAAS Aero Fiberglass Hull including bow ball, deep fin and self bailer (Carbon price $6,700) – Last known pricing
Do you need a boat rack or slings for storing your boat, or a boat dolly to move your boat around on land?
Take a look at the our Rowing Accessories Page!
Or Call Us! 518-745-7699 (ROWW)