Designed primarily as a club racer, the MAAS Single is exceptionally stable, stiff  and durable at a weight close to shells costing thousands of dollars more (33 lbs, 31.5 lbs with performance package).
The MAAS Single's aluminum wing rigger allows for a lowering of the sculler's center of gravity, greatly enhancing stability without the lackluster performance normally associated with stable boats. This ease of set up translates to great speed when the rower cannot consistently apply full power in chopper water or when there is less than perfect sculler balance.
Highly adjustable rigging and MAAS's unique flared hull design allow the MAAS Single to fit a wide range of scullers. Scullers ranging in weight from 130 lbs to 220 lbs successfully race this boat.
It's light. It's easy to set up. It's fast, still and durable. A carbon fiber club single at an affordable price.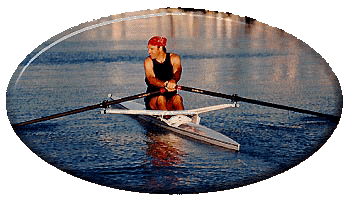 HULL CONSTRUCTION IS EXCEPTIONAL – carbon fiber (very stiff and light), direct size "S" glass (for outstanding impact resistance), and vinyl ester resin (epoxy-like toughness without the need for high temperature curing). Carbon fiber/S glass composite construction with a Nomex honeycomb/carbon fiber I-beam creates a very tough and rigid boat that is easily repaired if damaged. 
DEFLECTION tests show the MAAS Single to be comparable with an Empacher. Overall, in terms of stiffness, weight, and adjustability, the MAAS Single can match shells costing thousands of dollars more.
The MAAS Single i

s

easily repaired, a fact greatly appreciated by anyone who has attempted to repair a Kevlar-skinned, honeycomb shell.
MAAS's innovative design and construction is demonstrated at the critical hull-to-deck joint. An external lip provides a very strong bond, increased longitudinal stiffness and, in choppy water, less water on deck.
The CALF-SAVER CALF GUARD, a protective piece installed across the track ends, is designed to prevent "boat bite." You can't row at 100% in an uncomfortable shell.
The MAAS SINGLE RIGGER is a state of the art, one-piece aluminum wing, with epoxy powder coat. It is fully adjustable for height, spread, pitch, and work-through-the-pin.
WEIGHT: 35 lbs, fully rigged or 33.5 lbs with Performance Package

– carbon fiber/ball bearing seat, titanium oarlocks pins, carbon fiber foot stretchers.

WIDTH: 12 inches at waterline
LENGTH: 27'1″
MAXIMUM ROWER WEIGHT: 225 lbs

Unlike the

MAAS 24

and the

MAAS Winged Aero

, the dimensions of the MAAS single are consistent with top of the line racing singles. The MAAS Single is not recommended for open-water rowing or for beginning scullers.
Pricing:
$7,150     Carbon Hull, including bow ball (Fiberglass hull not available in this model)
$     50      Deep Aluminum Fin
$   690      Dreher carbon fiber, adjustable handle, lightweight hatchet oars
$7,890      Total (excluding freight)
$   185      Splash guard optional
                                                                                                   Guaranteed Lowest Freight
Do you need a boat rack or slings for storing your boat?
Take a look at the our Rowing Accessories Page!
Or Call Us! 518-745-7699 (ROWW)