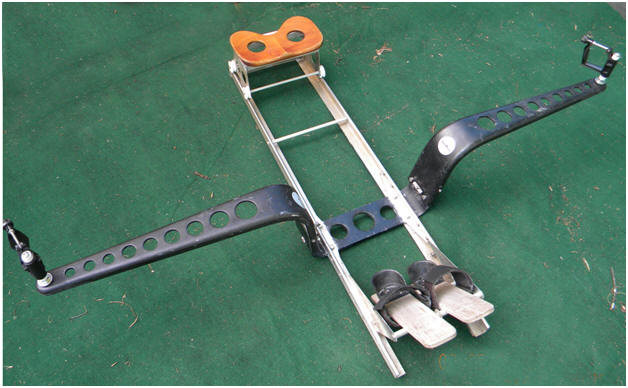 Oarmaster I (all versions)
The very first sliding seat drop in unit ever made, the Oarmaster I was a state of the art sliding seat sculling system in its day. This drop in unit was developed in the mid 1970s and evolved over several different versions and subsequently replaced by the Oarmaster II.
The Oarmaster I is still a favorite among many scullers and it can be an alternative to the more expensive and current Oarmaster III, Row Master, and TESLA. We believe the Oarmaster I is a cost effective choice for a drop in unit as they were very well made with high quality components and seldom break.
We recommend purchasing this older unit with upgrades that include Concept II oarlocks and stainless steel pins. The original issue Oarmaster I had brass open oarlocks. Some of the replacement parts for the Oarmaster I can be hard to come by in the future but at present, all essential parts are obtainable.
Click here to see how to use the Oarmaster I clips for your rowing shell
The Oarmaster I has the ability to fit all Alden 18s, Alden 16s, Alden Martins, and Appledore Pods, past and present models.
Or Call Us! 518-745-7699 (ROWW)