We do not have a shopping cart, so please give us call or email to order parts.
518-745-7699 (ROWW)
Not sure you know the lingo for the part you need? Take a look here!

Chesapeake Aluminum Slings
$160 pair
This is our most popular sling for singles and doubles. Lightweight Aluminium frame and extremely compact. The sling is made of heavy duty Cordura and are incredibly versatile. Internal frames support the sling independent from the weight of the shell. Great for both daily storage and small enough to fit in the trunk of your car when traveling. Folds flat.
27″(H) x 16″(D) x 20″(W)     Set of (2) slings 

Atlanta Aluminum Slings
(Large sling in the back, comparing to smaller Chesapeake sling in front)
$190 pair
The best slings for larger boats and for 4's and 8's. Durable, light and able to fold flat to less than 4 inches, the Atlanta slings weigh about 11 pounds a pair. These slings have anodized aluminum tubing, stainless fasteners, a rugged support cradle and strong, thick support brackets, the "Atlanta" sling is built to survive the toughest conditions. Folds flat. The Atlanta Slings are very popular with owners of the Guideboat 15 and  Guideboat 18, Adirondack Wherry, Annapolis Wherry, Appledore Pods, and the Heritage Dories.
Size: 35.5″ tall.  Sling opens to 24″ wide and 10″ deep to support heavier boats including eights or fours.
Set of (2) slings

Super Soft Straps
$36.00 a pair
Anything secured with our Soft Straps is snug, because pulling on the free end of the strap cinches it. As pressure is added to the strap by a load, the teeth-lined cam buckle grips tighter.  The 1.5″ polypropylene straps hold up to 1,200 lbs!
Oar Bag
$215
This Oar Bag is made of nylon pack cloth and has a quilted lining and keeps oars safe and clean. Holds two oars, great for travel and inside storage. Fits all sculling size oars, inside divider to separate your blades, full-length zipper for easy fit and double carrying handle. Available to accommodate 296 and 298 cm.
Guideboat 15 Cover
$750
This Guideboat 15 cover is made of Cordura material and is made to cover the cockpit of the Guideboat when upright. Nylon straps secure the cover to the boat.

Shell Covers
For the MAAS Aero, MAAS 24, and Alden Star
Other shells can be custom ordered
Covers  Unlined – $539/ Lined – $589.00
The Full Zipper Lined or Unlined Sunbrella single cover is best option for outdoor storage and travel. Sunbrella, the #1 Marine Fabric, provides unparalleled protection against damaging UV rays. The quilted lining in the padded cover adds padding and lasting strength and durability to your cover. All covers are custom fit for a specific shell and are designed with custom rigger openings for standard or bow/stern mount wing rigger. Velcro rigger slots allow you to close the rigger slots to cover your boat completely when unrigged. The bow and stern ends of the cover have reflective safety piping and sewn-in red tail flags are all standard. The heavy duty coil zipper zips from both bow and stern ends, meeting at the rigger location. Lined covers have a quilted lining and provides extra protection while traveling. Easy on and easy off and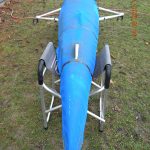 The Strap and Buckle Single Cover will keep your single in great condition! Made with Sunbrella, the #1 Marine Fabric, this cover provides unparalleled protection against damaging UV rays. This Strap and Buckle cover is great for storage purposes either in boathouses or on racks outside. The custom fit is specific to your exact boat and is designed to cover just your hull only. This keeps the cockpit and deck open & easily accessible. Easy on and off. Stock colors are Pacific Blue, however you can order red, yellow, silver, navy, forest green, or purple. unlined – $379  unlined / $439 lined
Inflatable Safety Vest
Please check http://rowsafeusa.org/pfds/ for other life vest options.

$345.00 
Wheels are 16 x 4, with fully pneumatic tires
Large wheels easily transport the largest shell
Constructed of heavy duty anodized aluminum tubing
Polypropylene straps / Dimensions: 39 x 16 x 5
"Foot" holds dolly upright to facilitate single-handed loading
Not sure you know the lingo for the part you need? Take a look here!
Or Call Us! 518-745-7699 (ROWW)