Please take a moment to read our unsolicited testimonials that customers have written to us about our services and our rowing shells.

Great experience with us?
We would love for you to leave us a YELP review!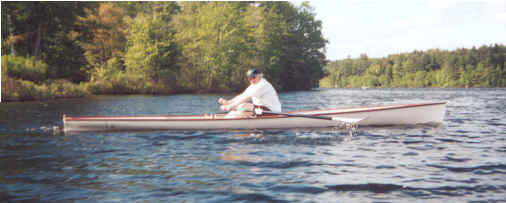 " . . Thank you for the great time I had at the lake.  I never thought I could learn to row in two hours!  Here is a picture taken of me just the other day in my new Wherry.  Thanks again!  Paul, Rochester, NH
Hi Peter, Hope you are doing well! In 2007 when I was 57 years old, I bought a Wintech Explorer 21 from you. You helped me sell the Peinert 25 I had been rowing for a few years so I could buy a rowing shell I could row as I aged here on Lake Norman in North Carolina. Now 14 years later, I am 71 years old. Yesterday I was rowing mid-day surrounded by a lot of motor boat activity and I thought of you. I can't thank you enough for helping me choose the boat I could enjoy regardless of the conditions. It was getting more difficult for me to get the boat in and out of the water so I rigged up a way to slide it on and off the dock using a piece of carpet. Thanks to this hack (and rowing on my erg throughout the year) I feel confident that I'll be able to enjoy rowing the Wintech Explorer for years to come. Thank you for knowing exactly what I needed. Each time I row, I am so grateful to you! With so much appreciation, Sue Cronkite, Lake Norman, North Carolina. 
Karen and Peter, You would be at the very top of the listing I would draw up for the Almighty Above, or for anyone else, if ever I were to be asked my nomination for top notch customer relations and support sainthood! You people go way beyond the call of duty and certainly deserve recognition for yourselves and your Adirondack Rowing business. I would like to add that following each telephone or e-mail communication I have had with either of you, I have experienced a smile on my face and the strong feeling that I have in you, two new friends – With my thanks and best regards, Geoff Smith, Loudon, NH
Peter and Karen, You have both been so incredibly kind and thoughtful – I can't thank you enough!! Having the boat is a dream come true for our family. Thank you for making that happen. Now they can't wait to get out on the water! Cheers, Julie, Burlington, Vermont
Karen, Thanks so much for all the information you gave to me about my LRM Cambridge rowing shell. I called the manufacturer before I called you and you knew far more than the manufacturer did about their own shell, albeit, it was an 1990s shell. Thanks to you we are able to purchase the needed parts from you immediately. I look forward to working with you again. Doug, Big River, CA
Pete, We had given up on sculling after having taking lessons at a nearby facility and after we strapped our boat incorrectly and damaged it. We are so glad we found you and took your sculling lesson. You corrected our stroke from our other lessons and even helped us get our damaged boat repaired so we could sell it. We bought this used shell on the advice of a coach that was connected to the rowing instructor we previously had. It was the wrong shell for our usage, water and our beginner status. We wanted to thank you for showing us the correct way to load and strap our new boat and to unload it so we don't damage it. Thank you so much for correcting our stroke problems, transportation problems and especially for getting us into the boat that is best for us. Wally & Adel, Catskill, NY
Pete, thanks for describing the differences between the open water boats that would work for me and my wife on the St. Laurence. We were glad to hear there are boats that are able to handle the rough water of the St. Lawrence River. After talking to you we are comfortable with the decision we made purchasing the Appledore Pod from Adirondack Rowing. We look forward to the boat arriving! Bobby, Montreal, Canada
Hello Karen! Success! And all thanks to you! As it turns out, Van Dusen Boats (mentioned in the second link you found) carries the material and when I got to their site, embarrassingly, it turned out I had an account with them….! That's what memory (or lack thereof) can do to ya! Many thanks again for going that extra mile for another human being! I believe you must have many 'Karma Points' as I suspect this is probably part of nature. Your company is very fortunate to have you. Please let them know for me!  Kindest regards, Craig, Calgary, Canada
Pete, thanks a million for the super sculling lesson and the quantity of laughs that came with our lesson! I had a lot of questions and you answered all my questions. I thank you for that. I watched a lot of YouTube videos before coming up for my lesson, but I wished I hadn't. The information was contradictory and confusing. The lesson you gave me was straightforward and had a lot more information. Thanks again – expect referrals! Mike, Pensacola, FL
Karen, Thanks for spending so much time with me on the phone about which shell to purchase to replace my old Alden Star. I spoke with my coach at our club and he told me to consider the Virus, the Echo and the LIte Boat as they were similar to the Alden Star. As we talked about the different boats, I realized none of these boats were like the Alden Star at all. Thank you so much for recommending the Winged MAAS Aero. The detailed descriptions of the different shells made it easy for me to make my decision. Can't wait to row my new Winged Aero! Rick, Vinalhaven, ME.
Pete, thank you for the super sculling lesson this past weekend. I had previously wasted my money on private lessons on the West Coast. I now know the instructor couldn't answer even basic questions and the shell he had me in was too tippy for a novice. I was spending way too much time trying to balance the boat. The rowing camp I attended wasn't much better with all three coaches having different philosophies on sculling technique. I wanted to thank you for answering every single question I had about sculling technique and equipment. It helped me chose the right boat for my "needs and wants" as you stated. A million thanks, W. Austin, Los Angeles, CA.
Pete and Karen, I had forgotten to mention when I spoke with you that I was referred to you by your competitors. They could not have spoken more highly of you. T. Thomas, Lakeland, FL.
Karen, Pete, Dave and I are back in NJ, and I wanted to reiterate what a wonderful experience we had with the planning, purchase and delivery of the (Quest). It is great; I went out on the water Saturday and Sunday and had a beautiful expedition each time. It feels comfortable right off the bat, and I know for sure, that you guys helped me make the right choice!! Jayne M. Rumson, NJ.
Peter, Wanted to thank you so much for your time and advice when I called a week or so ago.  As a disabled rower, my needs are unusual, and I appreciate the thoughtful attention you gave me. I also wanted to give you a little feedback on the pair of Chinese carbon fiber sculls from Z and J Sports that I bought from you folks last year.  When I visited Adirondack Rowing I thought that I was going to be going home with a pair of the used sculls that I'd seen on your website.  But you folks took the time to show me a wide variety of new and used oars and, as I have short fingers, I was pleased and surprised to find that the Chinese sculls had an unusually small diameter handle that works well for me. I'm very pleased with their weight and adjustability, they're working great and are a good stiffness for the sort of long distance recreational rowing that I like to do.  The small handles increase my rowing comfort, allow me to loosen my grip, make it easier to do a good finger roll and optimize my wrist position… a real plus! Thanks for helping me find these. I really appreciate the experience and knowledge that you folks at Adirondack Rowing bring to your work and I'll be referring folks your way in years to come. All the best. Mark Pokras, Scarborough, ME
Karen and Pete, thanks for helping me get a great shell for our family in upper Wisconsin. The time you both took with us was really nice and the delivery time was much better than expected. You two are terrific! J. Dixon, WI
Pete, Thank you again for the great sculling lesson I took last October. I am having a great winter sculling in Florida in my new Echo all because of the lesson you gave me and being able to try out the different shells. You certainly gave me all the information I needed to know about rowing a real scull in comparison to a rowing machine. You mentioned watching YouTube videos and I had done that before coming to see you for a lesson. Fortunately, I had not put any of video information into practice! Thank you again for the emphasis on the importance of a thorough, in person, sculling lesson. Ruth, Tampa, FL
Pete, I wanted to email and thank you for the sculling lesson this fall. Sara and I learned so much from you and have enjoyed rowing our new boat very much. I wanted to share with you our recent trip to Florida . Our neighbors in Florida scull but they had always had trouble with their stroke. They could not remember much from their lesson at a local sculling school. There was no cohesive memory of the stroke at all. We were also amazed at their complaints about blisters and calluses on their hands and fingers when we had none. Even though we have been sculling for only a fraction of the time they have been sculling, we are better scullers.  Ultimately, we wanted to thank you for a great lesson, keeping our hands blister free and for teaching us such a sound sculling technique. J & S Clark, Yellow Springs, Ohio
Karen, We wanted to thank you for making our purchase of a new Aero so easy. We got all the information we needed on the first phone call and within a couple of weeks our new boat was delivered! We have been enjoying it every day since it arrived. Thank you again! T. Kolysko, Hartford, CT.
Pete and Karen, I want you to know that working with your company has been one of my most pleasant customer experiences ever. I cannot think of any time in the past where my experience was this good. M. Glorioso, Carriere, MS
"I cannot say enough good about Peter and Karen.  They were uniformly polite and helpful during multiple long distance interactions.  Even though my financial transaction was relatively modest (buying a used rowing unit and oars for a guideboat purchased elsewhere), they went out of their way to be obliging and accommodating.  This even included giving me a reference for refinishing the used guideboat.  Even though I live in Pocock territory, I would unhesitantly buy a new boat form them." Alan Williams, Kalispell, MT
Pete, thanks so much for your help with getting us a shell to rental on our vacation in the Adirondacks. You made the process painless from delivery to pick up. The double was a gas, we loved it! C. Wenz, Philadelphia, PA.
Pete and Karen, I came off the lake this morning telling myself I HAD to email you and thank you for convincing to buy the Maas Aero to replace my 17 year old shell last spring. As you may remember I was concerned about it's stability in rough open water conditions. You were totally correct.  She tracks like a champ and handles chop easily.  This morning though was like glass and I was equally impressed that she tracked as straight as an arrow, no pun intended.  It was a thing of beauty.  I ran across some of the guys from the club and was able to walk them easily (well, all but one young turk; but he didn't get any open water on me). That brings me to my second thank you.  The Drehers were worth every penny.  Although I still fall back on the Deltors when it's really nasty, the Drehers were/are a real step up, especially in calm and mildly rough conditions. I really appreciated your help and patience, holding my hand, as I decided to take the plunge without first rowing the Aero and Drehers.  I think your knowledge of rowing as we talked convinced me that I could trust your descriptions.  I'll admit my first day, setting her up and taking her out was anxiety laden, but by day two all was right with the world. W. Harner, Cincinnati, OH.
Pete, we wanted to write to you to thank you for helping us so much in our search for a rowing shell. Your advice buying a shell until we understood more about them was a great idea. We definitely would have picked the wrong shell for us had we not come for a lesson and demo. We both loved rowing on Brant Lake with you! K. O'Connor, Manhattan, NY.
Hi Peter and Karen, Thank you both for such wonderful help.  Your service to put us together for the sale of my shell is very much appreciated.  Now, I might be back to your site to troll for another boat!  Thank you again for a wonderful service. I will continue to gossip about your great business. T. Christensen, Tennessee
Karen, The level of service that you provided was truly spectacular. I called you at late Thursday afternoon and I had my parts Friday. Before the weekend! Thank you so much! V. Lapoint, North Hero, Vermont
Pete, We had our sculling lesson from you last summer and we wanted to let you know that we have enjoyed our sculling more and more. The lesson you gave my husband and myself was wonderful! The boat we boat from you still looks like new. Thank you for sending the new grips this spring. They look great and yes, we have been working hard at working on our critical hand placement on the handles. Thanks again, J Richard
Karen and Pete, Thank you for being so accommodating to make arrangements for my sculling lesson. I knew it was short notice, so I was very glad that you fit me in. The lesson with Pete was really great. I learned so much more with Pete than I did when I went to the other rowing camp. The information that was given in the lesson was terrific. Thank you again for a one of a kind super day! K Moss, Minneapolis, MN
Pete, I just wanted you to know what a great idea and product you have in your sculling mirror.  I use one on each of my three shells I have and they are super.  They're the only way to scull. Thank you for creating this product.  T. Rose.
Karen and Peter, Wow, wow, wow!  Thank you, thank you, thank you!  I love my new shell.  I should have gotten one a long time ago.  I have rowed every morning that I have been in town since last Saturday. . . . I thank you so much for your excellent service and the time that you took with me to help me decide what I needed.  You are true professionals, and it shows.  You do your jobs in a very pleasant, expert and constructive manner.  You've earned a customer for life.  I was especially impressed with how quick and easy you made the delivery process.  The whole deal went fantastically. . . Again, thanks for your great and professional service!  I look forward to working with you in the future.  My 13 year old son has quickly gotten the hang of rowing and, who knows, maybe we'll need another 24 so we can race. Sincerely, G.L. Gillette, Tampa, FL
Pete, The sculling lesson that you gave my wife and I last fall was the best lesson ever! The instruction was terrific! Our time in Florida this winter sculling was wonderful as we spent time with friends on the water. They were amazed at how well we were sculling in such a short time. We look forward to another sculling lesson with you this spring. J. & L Burgoyne, Chicago, Ill
HI Karen,  I wish that ordering goods from the UK was as easy as from the States!   MANY MANY thanks for your help on this, it's been a pleasure doing business with you!  Best wishes,  Pete Devon TQ12 3BW,  UK
Pete & Karen, Be expecting a visit from my BMW dealer soon (I'm not kidding!).  You two should be teaching BMW what real customer service is.  Never once has there been any delay or inattentiveness to my needs with your company.  I want you to teach my dealer what you do and how you do it.  What a consistently great experience it has been and is to deal with you both.  Thank you. C. Bouvet.
Karen, thanks for your great service and incredibly fast shipping on my replacement parts for broken and missing parts on our Alden Ocean Shell singe and double. We could not even get a call back from Alden itself. You were a true find. We will call you for all our Alden parts needs going forward. J. Stevenson, Minneapolis, MN
Pete, Thanks so much for the sculling lesson. It was much more than what I had expected. The specific information that you covered in the lesson was very detailed and answered the questions I had. All my questions were answered expertly. Pete, your lesson was way beyond what I would have learned through reading and YouTube video's. I can't thank you enough. J. Scanton, Minneapolis, MD
Pete and Karen, So many thanks to you both for such a super experience in learning how to scull technically well. Our strokes are very smooth and the people we scull with compliment us on it. Sam & Judy, Tampa, FL
Exceptional service, prompt communication, and professionalism!  Peter defined very quickly what I wanted to purchase, and I was lucky that they happened to have the item in stock.  I highly recommend Peter and Karen and the entire Adirondack Rowing team.  They are everything a superb company should be AND MORE. K Bunch, MA
Pete, Thank you so much for your incredible service and knowledge! We were so impressed with the tact you took with the education first. We surely were headed toward a decision for a shell that would have not been the best one for us. Without the lesson and the ability to try so many different shells, we would have chosen the wrong boat for us. Thanks again! M. Panack, New York, New York
You guys have been so splendid with helping me out on my used guideboat. I can't thank you enough, not just great service, but the best service I have had for a long time. A. Williams, Kalispell, Montana
To Karen and Peter, Thanks for making my wife very happy. I sneaked the shell home after dark and set it up outside the kitchen door for here to stumble across this morning. I made a great birthday surprise! Thanks again, C. Morrissey, Annapolis, MD
Pete and Karen, Many thanks to you both for taking super care of us and helping us choose the right shell. The information you gave us helped make the right decision for Janet and I for which rowing shell to choose. Thank you again and especially you time on the phone and at the lake! Janet and Fred, Hartford, CT
Pete, Thanks for the great lesson. It surpassed my expectations and really saved me a lot of time. Rowing camps were an option for me but I learned so much more with your approach. K. Arteserse, Jersey City, NJ
Pete and Karen, You have been great to deal with during our rowing shell purchase about 5 years ago.  If you remember I purchased my single shell from you in 2006 and my wife and I are now ready for a double.  It is a pleasure to just make a call and know that our needs will be met with being recommended the right shell for our needs and the freight arrangements made without a problem.  Thank you for being there so long and working so well with us.  Bruce B. Kentucky
Pete, you can teach our car dealership a thing or two and that's with them bring pretty good but you are great.  The level of service, communication and your door to door service is something we have not experienced recently.  Thank you so much.  D. Smithson, New Jersey.
Dear Peter and Karen,  My son and I just returned from a wonderful four day adventure trip through the Adirondacks in one of your guide boats.   This trip would not have been possible without your excellent and cheerful assistance.  You helped us plan the trip, delivered the boat to us, transported us and the boat to our starting point and met us at our finish point.  You thoughtfully brought equipment that we might have forgotten, and trusted us with a valuable guide boat.  You were reliable, professional, helpful.  Throughout the process you made us feel like valued customers and old friends.  You did all of this at a very reasonable cost.  We could not have been happier with you and your excellent company.  Thanks so much for some wonderful memories of a unique trip. Sincerely, D. Burgess
Pete, Got the rack and extenders last week! Thank you for exceeding the price match and the t-shirt! I will be sure to spread the word to my friends as I have over the last few years. Thank you again! B. Forsterer, El Dorado Hill, CA.
Pete, you were very honest with me on the phone today about what I needed to know about the different boats I was interested in. I appears I was a little ahead of myself with the longer, thinner boats! Thank you again for your help and guidance! J. Polson, New Jersey
I recently purchased a used single scull, but had to transport it from Rhode Island to New Jersey. I was very nervous that my Camry sedan would not do the trick, but I contacted Adirondack Rowing, since I was purchasing an Alden Star, and they carry this line of new and used Alden's.  I spent a lengthy time on the phone with Karen, whose knowledge, expertise and assurance calmed my nerves and solved my problem. I purchased  the necessary roof rack equipment, specific to my vehicle, and then purchased Adirondack's own rowing scull roof rack. Everything worked to a tee…the three and a half hour trip was uneventful as the boat did not budge one inch, and I was able to average 60-65 mph all the way to New Jersey.   This boat rack was able to accommodate my wider rec scull, but it is also adjustable to handle racing sculls.  I highly recommend this rack and I also highly recommend Adirondack Rowing for their knowledge, expertise and professionalism. R. Filippi, Nutley, NJ.
"You guys are the BEST!! I got my shell rack today!!  That is remarkable!!. . .Thank you so much!" B.Denny, New Hope, PA
Pete, thank you for taking the time to work with me n my sculling equipment. What a huge difference the toggling foot pads on the Tesla made for my ankle problems. I thought I was going to have to give up sculling but you made my day when you told me about the Tesla unit. Thank you again, J. Meninger, Chicaco, IL
Dear Pete, You gave me, my husband and our daughter a rowing lesson a about 3 or 4 years ago and we bought a shell from you. (an echo)  Just want to let you know that I am still rowing on Lake Adirondack (83 yrs. old) and that our daughter Janet, who is now retired and lives on the Cape, has joined a rowing club and will be racing this coming Saturday in Saratoga Springs. Thanks for giving us an enjoyable introduction to rowing. Joy! Indian Lake, NY
Karen, Your customer service is terrific! I was not able to find the part I was looking for anywhere and I looked a lot, but you were able to find it and ship it to me quickly. Thank you very much! I am sure you have many satisfied customers. P. Kennedy. Arapahoe, NC.
Karen:  Using the technique you so nicely demonstrated the other day all four pins on the rowing frame were checked yesterday. Three of them were badly out of line. Lined them up with a level, and went rowing. So much nicer. Thank you thank you thank you.  When I bought the wherry instructions on how to line the pins up were included, and I read them several times. The printed word just did not make sense. Your demonstration was superb. D. Greer, Lake Catherine, NY
If you want to learn to scull, Pete's your guy. My sister and I took a two hour novice class, my husband some private instruction. We all learned an amazing amount in a short time. Pete is patient, clear, effective in conveying information. And he found me a boat, brought it up the next day, let me test it and gave me more tips, helped us load it, and we were on our way. I cannot recommend his highly enough – instead o a week of camp try a weekend with Pete. And Brant Lake is lovely. James. W. Snowmass Village, CO
Pete, Thank you so much for talking with me well over an hour on the phone this weekend. I learned so much from your explaining about sculling and the equipment. I truly understand why technique is so important before I purchase a shell, so I will definitely be out to take a sculling lesson this spring. Thank you again. Therese H. St. Paul. MN
Pete, We cannot thank you enough for our sculling lesson. We learned so much about sculling and the sculling stroke. During our previous lesson, the instructor insisted we bring and wear gloves during the lesson. Your approach was just the opposite and your explanation and instruction was really specific! We had not learned in the previous lesson how the placement of our hands is so critical to the stroke's function and injury prevention. Your instruction was so much more detailed than our prior lesson. We agree you have the best sculling instruction available, anywhere! Thank you again, M. Fieder, Norfolk, VA.
Pete and Karen, I just wanted you to know I couldn't have had a better experience in purchasing my guideboat than with you both.  It is just a super boat and meets my every need.  It is much faster than my older boat too! You were right about the speed behind the V shaped hull of the guideboat.  Again, thank you! B. Spellman, MA.
Pete, Thank you so much for the great service and for finding us the artist to do the work on the wooden seat for our awards ceremony. Everyone loved it and commented on the great artwork. Thank you so much for getting it here so quickly! K.D. Green, Frasier, MI.
Karen, Thank you so much for a super experience making a purchase from you.  When we couldn't get our Oarmaster parts from Alden we didn't know what to do. Luckily, we found you on the internet and the purchase couldn't have gone smoother. The instructions were really helpful too. You guys are the best. L. Swanson, Harrisburg, PA
Superb rowing instruction. Pete will get you out on the water, and efficient with your stroke, in jig time. I took one lesson , bought a boat, and rowed the entire Monogahela, and a good chunk of the Ohio. He's very good at what he does. J. Breen, Mashpee, MA
Hey Peter- It has been ages since I last saw you. I have to tell you that it has been about 15 years that I have been rowing with my beautiful MAAS Aero. Season after season I think about dropping you a note to thank you and tell you that I am as happy with this boat as I was when I got it. I love it. I have been living in Colorado for several years and come back every summer to row on the Lake.  I am so grateful for my daily rows down to the LaChute and back. I often think what a terrific teacher you were to teach a rather "co-ordination challenged" person as myself to row….in one lesson!  Many of your words of rowing wisdom still come back to me after this long. You are great at what you do. I also have to tell you that this boat is in really good shape with minimal upkeep–short of keeping it clean and storing it well in the winter time. Initially, I thought it would require a bit more maintenance than it actually needs. You really recommended a boat that was a good match for me. Again, thank you, thank you. If you have any clients who are on the fence about purchasing a boat or taking lessons, please pass my name along to them. Particularly anyone who questions how feasible it is to lift and transport a shell on a car. Piece of cake! This boat has traveled to many an Adirondack lake. Good health to you.  K. Reale, Colorado
Pete and Karen, many thanks for refunding my deposit on a rowing shell years ago just as Hurricane Sandy hit us here in New Jersey. That was very kind of you. We now want to buy again post recovery from Sandy. We are only buying from you as your treatment and service of us brings us back. Such incredibly nice treatment. Thanks again, F. Olividale, Sandy Hook, NJ
Pete, Thank you for retrofitting our Heritage Dory 18.  We were ready to throw the boat away, the wheels and rail worked so poorly.  From when we first bought the boat the seats slid so roughly and loud too.  These new Piantedosi sculling systems you retrofitted into our boat are perfect.  They roll quiet, smooth and effortlessly.  We never thought that we would enjoy our boat but now we sure do.  Thanks again.  M. Hammel
Pete, thank you very much for the great sculling lesson. It was rewarding as it was necessary. I thoroughly read and studied the top rated instruction books before attending your lesson. The books I read were written well but left so many questions unanswered and some of the information was contradictory. Your lesson cleared up all the incompleteness in the books and specifically untangled the contradictions. I have been answering technical sculling questions my rowing mates have been asking because of the lesson time I had with you. One of my rowing mates commented that I got 10 times the amount of information in much shorter time. Again, many thanks for your expert instruction and services. I am passing this information to everyone that I know to acquire the best sculling technique. B. Shepherd. Potsdam, NY.
Pete, Thanks for the sculling lesson. The instruction was the best I have had and that is saying a lot because I have been to several different camps for sculling instruction. I think I will love sculling and it is now an activity that I will do well. You have made a great summer greater! Dr. Timmons, Ottowa, ON
Pete, Thanks for the sculling lessons at our lake home. It was so worth the money to have you there. The instruction was superior than the classes that we had taken in Vermont. You were so detailed, but gave us the information so well that we were able to get our oars off the water consistently after just an hour. During or previous classes they had let us drag our oars on the water during the recovery the entire time and never got us with the oars off the water.  You saved us so much time on where to keep out shells on our shoreline. We had planned on purchasing an expensive dock to keep them on but your idea of keeping them along the left side of the shore is much more efficient.  Just the emphasis and precision on our hand placement part of the lesson was worth it! Thank you so much. Emma and Richard. Detroit, MI.
Karen, Thank you for the help with the rack system for our lake house. The rack is great and we love how easy it went together once it arrived. The rack is very solid and we are very happy with the purchase. Gene J. Orono, ME.
Pete, Can't thank you enough for the super lesson. It was great! The two lessons we had before you were a lesson in frustration only. The first lesson we experienced the instructor trying to put the sliding seat system in the boat backwards. In the next lesson, our instructor had us load the oars backwards! Thank goodness, we found you for our rowing instruction! J.P. Muller, Baltimore, MD
 Pete , First, thank you so much for providing our father with a sculling lesson last weekend. What happened on the way home from the lesson we had given him as a gift.  Our Dad said he had never received such a thorough, thought out and complete "instruction anything" in his life like the sculling lesson he had with Pete. Our dad is a retired engineer who had developed and presented training materials and was very good at it. He also commented that Pete's clarity quality and structured layout of useful information was amazing. Due to this he said he remembered so much of what Pete taught him. He was really impressed. He really enjoyed the rowing manual especially. Thank you so very much. Mary Joe Austin, OK.
Pete, Thank you so much for spending time with us on the phone about rowing shells. You were able to clear up all of our questions and left us knowing what we needed to know about choosing the best boat for us. The Echo that we purchased from you we believe was the best boat for our needs and finding one used was wonderful! We wanted to thank you for your knowledge and pointing us toward the best purchase for our needs. G. DeCimone, New York, NY.
Pete, We just wanted to write you to thank you for your sculling class. We knew we had been given something special in the class as far as the quality and clarity of the information, but your priority of injury free sculling really struck a chord for us. We have a neighbor on the lake that had to stop sculling because of back injuries caused by sculling. In comparing notes with him last weekend, we realized that some of the very things we were taught by you never do in a sculling stroke (all in the first part of the lesson, before we got in a shell) our neighbor was allowed to do by his instructors in his sculling classes. He expressed that the You Tube video he saw supported what his instructor said to do so he kept doing it. We immediately knew that he was taught to scull with a "C" form, which you explained and showed to us in detail. A million thanks. My husband's back, which is sometimes not the best, has actually enjoyed no back problems since our class with you. His physio-therapist is going to be shocked! Megan Dieh, Ontario
 "I'd like to thank Peter for his patience, care, thoughtfulness and passion for rowing.  Peter's knowledge of open water rowing and boats helped me to find my perfect shell.  It's been a pleasure and I am happy to recommend Adirondacks Rowing to anybody who is pursuing this magnificent sport. " T. Slepukhin-Zamachnaia, Montreal, Canada
Pete, A thousand thank yous for the best, m ore thorough instruction of any kind that we have had.  You went way beyond personal attention to us.  The quality of your rowing instruction was so complete and understandable in regards to the sculling stroke that my wife and I remember every bit of it.  You were able to explain exactly what we needed to do without any extra steps. Again our thanks, R. Kilbourne, Indianapolis, IN
On behalf of my daughter I want to truly thank you for a wonderful sculling experience this afternoon. This was, without any hesitation, the most informative and beneficial training session she is ever had in the sport. This session only enhanced her motivation to embark on a lifetime of rowing. She will certainly be attending more sessions and consulting Adirondack Rowing in the years to come. Thanks again!!  J. Russo.
Pete and Karen, Thank you so much for the great service, terrific rowing shell and superior customer service.  I love my new shell and used it often.  It was great working with you both.  B. Kraig, Far Hills, NJ.
Dear Pete and Karen, Wow, how can Nathan and ever thank you for all the nice things you have done for us?  The beautiful shirts and the Vermont maple syrup arrived a few days ago.  We could not be more pleased.  If you weren't running a successful rowing business you could be teaching customer relations at Harvard Business School.  In fact, some Harvard Graduate Student is probably going to visit you some day as part of his research on how to build a happy, dedicated customer base. Nathan and I feel we have two new friends.  Thanks so much for all you have done for us.  We will be watching for an opportunity to reciprocate.  Sincerely, Doug & Nathan.
Pete, I just wanted to say thank you so much for your courteous service and help in ordering the stroke coach with surge from NK sports.  In spite of the fact that you were not making any profit on the sale, you were wonderfully helpful and made phone calls to assist me in obtaining the devise.  The stroke coach arrived on the date you had said it would and my daughter was thrilled. Thanks again. R. Donner
Karen & Pete, Thank you so  much for the sculling lesson. We couldn't be more pleased.  We learned so much more than we though we would in such a short period of time.  One couple on our lake went through a club for their lessons and they admitted they are still struggling to develop a nice stroke like we learned from you in just two hours.  We really enjoyed how clear and precise the technical part of our lesson was.  Sue C. Albany, NY.
Pete, your time with me on the phone really paid off.  You fixed my back issue in lifting my shell in one call!  My Orthopedist, my coach, and my own family tried to help me but my back problems persisted.  You helped me out immediately and totally with just an exact sequence of steps to use and adhere toThe way you guys explained things to me made total sense in what I was doing wrong.  Susan at the rowing club told me that you guys were pretty much miracle workers with this kind of stuff.  Thank you, thank you, Jim L. 
Dear Pete and Karen, Thanks! Thanks! Thanks! Your persistence in locating the right wheels for my 1970 Alden Ocean Shell's sliding seat is so very much appreciated.  My father and I purchased the shell over 30 years ago. I've been rowing solo since he passed away in 1990.  My dear husband bought me a new Alden shell about 6 years ago but although we had ordered an Ocean Shell, what arrived was a newer style, not as stable, with longer oars that require the crossover of the hands when the grips approach the body.  So, I have continued to enjoy our original Alden Ocean Shell and now, thanks to you both, I am back on the water again.  I'm just returned from a early morning row out to a nearby island, ducks and geese calling vociferously, birds twittering in the trees – Heaven! Yours, K. Waal, Richfield Springs
Peter & Karen, the Horizon has been safely delivered.  Thank you again for all your help and for making this such an easy transaction.  I look forward to presenting the Horizon to my husband on his birthday next week-end.  Hope you have a great rest of the summer, Best, S. Gazzolo
Pete, Thank you for the December lesson and Demo. The demo was also great but for us, as beginners, was very important.  To take a lesson and to try the Alden 16, Alden 18, Alden Quest, Alden Martin and Alden Star answered all our questions about the difference in the Alden shell.  We feel so strongly now that we have made the best choice and purchase for our lake house.  To have the purchase be a good used shell was just icing on the cake for us.  Thank you again so much.  Jack A. Montreal
Pete, great talking with you this past week.  It is like you haven't changed at all since I first spoke with you so many years ago when I first began rowing in the 70s.  Many thanks for helping us out with getting another boat.  The Wherry 16 is a super boat and so much lighter than the Alden Whitehall Wherry and the Appledore pods, not to mention cheaper too!  That $1,300 savings is going toward a shell for our granddaughter that we found at our local rowing club.  Keep up all the great work and thanks again for being so efficient with our recent purchase.  J. Moressi, N. Carolina.
Dear Pete and Karen, Thanks so much for arranging the lesson. It was fantastic. Both David and I feel much more comfortable and are ready to get out there and practice. Thank you so much Pete for coming all this way to give us the lesson. It was valuable for us to have you look at our setup and make sure everything was right. We look forward to many summers of enjoyment. B. Shae.
Thanks for all your help. You have been great and hopefully I will graduate from the ECHO and be able to buy  another Shell from you!!! Your process of consultation, great price and responsiveness cannot be beat!!  Regards–ROSS P., Coral Gables, FL. (Since this testimonial, Ross has since purchased two other rowing shells from us!)
Karen & Pete, You two are the best!  Your advice saved us from a poor purchase decision on a used shell we found on Craig's List.  Absolutely everything you guided us through to look for was so right!  Thank you again for helping us both so much to find a shell and verify that it was in good condition and what to look for in a shell that would have problems.  Your guidance was also very important in regards to looking for the right shell that fit our goals, our needs and our waterway.  Your customers for life, Beth & Mark C. Appleton, WISC.
Hi Pete, I want to thank you for the great sculling lesson on Saturday. I am seeing some immediate benefits! 1)   On Sunday (an absolutely perfect day with no wind and mirror water) I rowed without adjusting any of my rig; I just tried to put into practice the "hand placement" techniques you taught me on Saturday. I concentrated on relaxing the hands, and releasing the blade "square".  I noticed that "releasing square" does not mean "releasing straight". When the blades leave the water at  the release, the boat is still running out, and the blades drift astern.  A relaxed grip allows this to happen naturally, thus the release does not check the boat. I contrasted this method with my old technique where I used to "force" the blades out. MUCH improvement.  Also, by feathering early in the recovery (with a relaxed grip) I found the hands "Out of Bow" much more rapidly and easily, and the rest of me following much better.  The "hobby-horsing" I was so frustrated with is now almost gone. I also noticed the drive that followed the catch using this technique was much more powerful and smooth. 2)   So yesterday, I adjusted the collars and buttons on my oars so there is now only a 2″ overlap on the handles (there used to be 8″) and when the the blades are in the water, there is less than that. I think that has increased my speed significantly due to the better leverage, and I feel more power with less effort. So today, I will take out my GPS and see if my impressions are confirmed by the data. 3) You were also quite right about the oarlocks: I noticed that a significant reason I had such a tight grip on the handles was the friction in feathering forced me to twist the grips like a sticky doorknob. This tightens my grip, and then I don't relax afterward.  I am concentrating on returning to a relaxed state afterwards, but I think that replacing those oarlocks will help tremendously. If you tell me how much you want for them (include the S&H!) I would like to buy the used set you have. Please let me know where to send the check. Thank you again Pete! You and your class are really special. Regards, T. Ripsom
Pete & Karen, We wanted to thank you for supplying our Piantedosi Ro-Wing and oars to us.  Everything arrived safely, pre-assembled and so fast!  The up-grade of the wooden seat on the rowing unit was very generous of you  as there was no extra charge for that.  I learned from our neighbor who purchased their shell from you that you are very generous with thinks like this.  Thank you so much for the great customer service! C. Rosa, Knoxville, TN.
Hi Pete, I just wanted to thank you for taking the time to teach me the correct way to row sliding seat boats. It was truly the best decision I made to take lesson from you to learn how to row sliding seat after many years of fixed seat rowing. And, having tried to teach myself this new sport, I quickly realized, through you, all of the bad habits and errors I was making in this transformation. I plan on making it up your way again before my biggest challenge…..the Blackburn!  Thanks again so much! R. Phelan, MA
Shortly after I purchased my boat, another man on our lake purchased an Alden.  He did not take any lessons.  He purchased the tomahawk oars.  Pete had us try three different oars.  Both Rick and I liked the feel of the women's oars the best.  Neither of us would have ever purchased the tomahawk oars.  This man would be out rowing with me.  He struggled.  I told him about Adirondack Rowing.  I don't know if he ever called you, but he ended up buying a second scull.  I don't know the make.  He is still using the tomahawk oars.  He is still struggling.  I am so happy that we took lessons from Pete and tried the different oars and boats BEFORE we purchased our Echo. K. Boyd, NH.
Pete, this is just a thank you note to let you know how much we appreciate your time and help on our rowing shell purchase.  The questions you asked us really pointed us to the boat that was right for us.  I had not thought about water conditions, whether I was transporting it all the time, or if I wanted to take my family members along.  No one else asked these questions, they just assumed I already knew what boat I wanted and was not interested in fielding my questions.  The answers you gave me were complete and helped me to narrow down my thoughts on the right shell for me.  Thanks again! F. Calabrese.
Pete and Karen, just a note of thanks for making easy what others led us to believe was difficult, if not impossible.  In record time we learned to scull well and choose the best shells for our family (no easy task as you remember).  We also had a great ride back without worries as you had a safe rack to transport our new shell home.  You both are night and day different from your competitors!  Thanks again! Meg H. Newark, DE.
Pete, If you felt the Earth and water shake after our lesson it was my Dad!  He, as you know, was resistant to taking a sculling lesson, but that changed  in a big way after the lesson he had with you.  On the way home he shocked us all, raving about what a great lesson he had and how "every single piece of information connected perfectly to the next."  He went on about learning so much in such a short time and how "he couldn't imagine any teaching being perfect in every aspect."  This is not the same Dad we knew before your rowing lesson!  Thank you so much for being so great with him.  Kay, Muskegon, MI.
Karen, Thank you so much for your help on the phone.  You covered more information than all the boat shops I contacted this spring.   They carried rowing shells but didn't know a thing about their differences and why it was important for me to look at my waterway and what my goals were for sculling. I am so pleased to finally find someone who is knowledgeable and willing to take the time to answer all my questions.  Thank you again! R. Clark, Florida.
Pete, thank you so much for spending your time and sharing your knowledge and guidance in our effort to purchase a rowing shell.  We were able to learn more from you in a very short time that we had learned on our own through Google research and speaking with others.  You saved us a major error in purchasing the wrong shell for us.  We will be sure to pass your name on to others so you can help them as you helped us.  B. Lonergan
Pete and Karen, I greatly enjoyed seeing you both and visiting for a while this past week.  I wanted to stop by and let you know what a joy sculling has been for me for the last thirty years.  If you remember I purchased my first shell from you back thirty years ago, when I was 53 years old.  I had tried sculling when I was younger and found little reward from the activity as the sculling instruction was not great and the selection of boats was even poorer.  When I came across your company in the 1970s I thought I would give it another try and remembered your instruction being great and you had a nice selection of boats for me to choose from.  I purchased a Julian back then and loved rowing it until I purchased my MAAS 24 from you about 15 years ago.  I wouldn't have known which shell fit me the best or what shell would have been the best for my lake if you had not taken the time to talk to me about all the different choices that I had and then I was able to try all the different boats too.  Nowhere else was I able to do that!  Thank you both so much for the best rowing experience I have had in my 80 years and thank you both too for always being available to help me and answer my questions.  With appreciation, B. Patrick, Queensbury, NY.
Pete, just a note of thanks to you for holding your ground despite my pressure on you otherwise for not letting us try a shell until we were instructed on how to use one.  My wife and I learned the hard way and tried one properly out at a local boat shop and it was an absolute disaster!  Thank you for being so nice as to tell us if things didn't work out elsewhere that we were welcome to come back at your facility to take a lesson and try out some of the shells were are interested in.   We wished that we hadn't wasted a month of the summer thinking that we could scull well without instruction.   J. Smith. Montreal, Canada.
Karen and Pete,  we can't thank you enough for the education and service you provide for rowing.  The trip out was well worth the time and cost.  In fact, we know it saved us money as we would have bought the wrong shell for our needs the first time around.  The shell we have is just what we need and liked. Comparing all the company's boats next to each other is the only way to go.  Again, our thanks, J.D. Copek, Minnesota
Dear Peter, I just wanted to write you a quick note thanking you for an excellent rowing lesson.  I was a teacher for a long time and I've known many excellent teachers and you're one of the best.  I've been to many mountaineering and outward bound schools but I've  never learned so much in such a short amount of time.  Adirondack Rowing is the best.  Thank you, P. Baumgantel. Tampa, FL.
Pete , We just wanted to drop you a note to let you know that the time that you spent with us in our sculling lesson last fall is getting us through this harsh winter!  We have thought about and talked about all that we learned from you and realized what a unique and special learning experience it was.  The quality of the sculling instruction is reflected in our memory of it.  Leo & Sandy M., NH.
Pete and Karen, Your 40 years of experience shows!  What a day I had at the lake this weekend!  I felt that I got so much done.  I learned to scull well, tried almost a dozen different boats and then felt very confident about my final choice to purchase a double for me and my family.  The speed with which you both were able to gather everything together and get me back on the road for home was unbelievable.  No one else does what you do, especially so quickly! Thanks a boat load! P. Timmerman, Oklahoma.
Pete, Thanks so much for advising us on taking a sculling lesson before purchasing our shell.  If we hadn't I know we would not have enjoyed it and probably hurt ourselves and our new boat.  This is the smartest way to select a boat. We feel so confident now to be able to choose the best boat for us.  Best to you and Karen and thanks again, J & B  Johns. Sarasota, FL.
By the way, the lesson that Annie, Will and I had with Pete was fantastic. The kids still talk about it, and proudly wear the t-shirts. I'll forward some pix of Annie (10 yrs old) in the Aero! You guys are great. D. McAneny
Pete, thanks for the lesson.  It was terrific and really efficient!  I knew that as I was learning a lot but the fellow that had the demo after me really brought that home as I watched him struggle with just a basic shell that we had worked beyond in the first hour of our novice lesson.  It is not a surprise to learn from him that he had not gotten his lessons from you but I was surprised when he told me that he had paid for two years worth of lessons elsewhere.  I was very satisfied during my lesson but his struggles after multiple lessons made me realize I had made the right choice.  I am already recommending you to my friends at our Lake Association.  P. King, Glenwood Lake, New Jersey
Thanks SO much for all of your help and kindness – I'll have to write you a long testimonial when I get home, I don't think that I've ever been associated with such a great business.  What a dream come true it's been.  D. Wardrop, State College, PA.
Thank you for the lesson yesterday. We had a wonderful time learning to scull. Anna and I both appreciate the enthusiasm and patience you had while working with Mia and Chase. I know they both had a positive and memorable experience. J. McGlinn, Meadville, PA. 
Karen and Pete, It has been such a delight to work with both of you.  Thank you for everything you did to help me find the perfect open water shell for me.  Thanks again!   S. Cronkite, Myrtle Beach, South Carolina
I bought a guide 15 boat from you last year.  This brief note is to let you know how much I love it. . .The boat handles Wyoming waters (which are often choppy) incredible well and is a pleasure to row.  It has changed my life for the better.  I will row Jackson and Yellowstone lakes at the month's end.  Thanks for building such a fine boat.  C. Martinez del Rio, Laramie, Wyoming
Pete, I just wanted to drop you a line to thank you for everything you have done for me in my education in sculling and rowing.  I have never had so much consolidated information given to me on a shell or shells I was considering to purchase.  Your assortment of shells to try on your shoreline was amazing!  I have never come across another dealer who carried so many different lines of shells and be able to try them all too!  I loved it!  Your super sculling instruction is what really made the experience of trying all the shells possible.  Without it I never would have been able to successfully scull the MAAS 24 as well as I did that first day.  As you know, I did purchase the MAAS 24 from you after being able to row all the other 21 and 24 foot shells that afternoon. I feel confident that I purchased the best shell for me and I also feel confident about my sculling skills after my lesson with you.  Thank you again so very much. C. Bouvet.  Hartford, CT.
 I thought it would be good to give you a little feedback:  We had never met Mr. Gallo before, but found him to be an excellent instructor.  He was knowledgeable, was well prepared with all needed equipment, and made the sessions fun.  He also sent us a couple of books and a very good video prior to the lesson.  An all around excellent training.  Thanks, T.& C. Dittus, Saratoga NY
Just wanted to thank you again for all your help.  In all of the other sports and activities that I participate in, it's hard to find customer service like this.  You guys are amazing.  J. Smith, Rochester Hills, MI
Thanks for all of your help – you guys rock!  I always tell my friends how to get a hold of you for racks. R. Winchester, Charlevoix, MI.
Pete & Karen,  I'm going to love this shell.  Thank you so much for suggesting the flyweight I think it's going to be perfect.  I appreciate your delivering it to Rutland, it was much more convenient for us since we were in the area.  It's been a pleasure doing business with you again.  I really appreciate the great service and helpful advice. Thanks again,  A. Becker,  Tupper Lake NY
I must tell you,  your quick training at Eagle Lake when I picked up the Maas has really paid off. When I used to launch at the Marist Collage / Pough Rowing Club,  several times I received a complement on how well the boat moved thru the water. Today again another comment on how smoothly the boat moved thru the water from a fisherman who saw me cleaning the boat and mentioned the complement.  V. Hostovich
The level of services you delivered to my wife and I is beyond anything I have experienced.  Your great lesson and the quick delivery of our new shell enabled us to row on our lake the whole summer and fall!  Thanks again.  K. Leavins, Orono, ME
Thanks for the SUPER service.  I was expecting the package next week (4-5 days) but found it less than 24 hrs after the order.  Everything went together great.  Thanks again!  H. Weidman, ACA Certified Coastal Kayak Instructor
Pete,  Thank you so much for your attention and services.  Both are highly valuable and rewarding to me as time is precious and always hard to come by.  The ability to take such a thorough sculling lesson while only taking a minimum of time to learn so much and then being able to try all the manufacturers boats makes so much sense.  I am very glad you provide this service.  I feel like I not only learned a lot but also accomplished so much that day in making the best selection of a shell for me.  I will definitely be sending other need-to-be-rowers your way.  N. Bigelow, Newark DE
"You have been extraordinary in your efforts to meet every need we might have on our rowing cruise in the Keys. Not only was our Guideboat delivered exactly as we had hoped but we learned to love that boat while living in it for 18 straight days!  It served us well and we are sure it will get thousands of miles more use during the rest of our healthy lives! I can highly recommend the custom Lexan window we had installed in the bottom.  When we were not watching fish it was a very accurate depth finder. Our plans to row it the length of the East Coast are still intact although we may reverse direction now and do the northern section starting from Canada on weekends this summer.  We'll stop and see you if we get that far."  Gunnar and Heather Baldwin, NH Read all about Gunnar and Heather's adventures with the Guideboat 18 at http://rowingfordamien.slsoft.com
What an outstanding birthday success! He didn't have a clue what was happening until he got about 10 feet from the garage door – "to look at Gramma's tail light on her car…" !  He said he'd always wanted a shell, but never would have bought it for himself. Thank you SO much for your advice and assistance. You made one whole family very happy.  J. Rodgers, Dayton OH
I will certainly recommend you guys to anyone looking for a roof rack in the future. Your price and fast shipping can't be beat! D. Mair, Sparland, IL
THANK YOU for all of your help in receiving a life-long dream, my OWN single scull.  You have been wonderful to work with. You have been very informative and precise.  You have been one of the easiest, if not the easiest, retailers that I have worked with.  Everything went so smoothly like I know the boat will in the water.  I can't wait to hear the run of the water under the shell as the sun rises.  I'll let you know how it runs.  Thank you again. D. Fiske, Saline, MI
Thank-you so much for the video, T-shirt and book.  As a former teacher, I am impressed with how good the instruction was. While none conflicted with each other's instruction, each had their own emphasis which really helped.   I am partial to clear, simple directions, with analogies that made sense, as in the first segment.  The concept of pushing rather than pulling is smart. We can't wait!  J. Horowitz, Capistrano Beach, CA
Pete, just wanted to write you a thank you note for being so very patient with our family on purchase of our shell.  You have "the patience of Job!" Even our more stubborn brother acknowledged your advice, direction and opinion was the correct one in the ix of so many other opinions that we had gathered.  We are enjoying our shell tremendously.  It was both a great choice and there choice to have made.  C. Hanlon.  Detroit, Michigan
Just a note to say thank you very much for the great sculling lesson and also to tell you that you ought to change your company motto to "we fix $40 rowing lessons!".  Your class was what we really needed.  We only wished that we would have taken it before our other lesson!  We have never experienced such well thought out, practical and fun instruction.  We learned a lot in the two hours and it really shows in our sculling stroke.  Our friends at the club quickly noticed how much we had improved after we got back from your place.  Thanks again and we are so pleased that we found you!  S & L Paulicek, Pittsburg, PA
Thank you so much for having my family at your Rowing School.  We learned so much and had a great time!  My wife and kids enjoyed the rowing so much!  To be able to compare all the shells and family boats in one place is the way to go.  You were so good at explaining the attributes of MAAS, Alden and Pocock that the decision on which shell to buy was easy.  We plan on coming back next year when our son is old enough for his own shell.  We know he will get the best shell for his needs. M. Kellerher, Madison WISC
My sincerest thanks for your incredible efforts to have a shell under our Christmas tree for my wife's gift.  Absolutely no one else was so driven to meet our family's wishes to give her a shell in the time frame we wanted. D. Welch, Tampa FL
. . . just a note to let you know how much I appreciate your approach to teaching sculling.  Of all I've read and watched on video (and there has been plenty!) your course has covered all the most important aspects of great technique and alternate technique as well as injury prevention at every level from handling the boats to rowing the boats in all weather conditions.  I can't tell you how valuable this is to me.  I found your safety emphasis located no where else in my search through sculling books and video.  Thanks for such important and valuable information delivered so clearly and efficiently. . .  D. Lacey, Saratoga NY 
Thank you so much for allowing me to "try before you buy"!  It was the best thing I could have done!  The experience was exactly as you described, not at all what I expected!  The lesson was invaluable and the chance to row all the different boats was the best.  I am completely satisfied with the choice I made while at your school.  Rowing them all definitely was the best way to find out what was best for me and my rowing needs.  A. Javes, St. Pete, FL
I can't thank you enough for giving my son the instruction that he sorely needed.  He had poor execution and understanding of the sculling stroke that he learned from his previous rowing school.  He is now, thanks to your instruction, setting up his single beautifully balanced and not practicing the learned errors from his catch to his finish that he was allowed to do by his other instructor.  You are a consummate pro and gentleman in how you taught my son and treated us at your school.  D. Schwartz,  Newark, DE
I am so thankful for your infinitely patient and thorough instruction.  You made a long learning curve short and smooth!  You gave me a beautiful sculling stroke in such a short time.  I've never had such exact teaching in such a fun and entertainingly way.  The time flew by!  B. Hill,  Iowa City, IA
Pete/Karen,   I  don't often write letters but you deserve one.   First, thanks for the rowing lesson at your lake. I am very glad that you convinced me to take the lesson and  the "try before you buy" experience!  Your lesson was excellent and left nothing unclear or incomplete.  I now have a stroke that is smoother, quieter and faster than my new rowing partners who have more experience than me!  I have bought an abundance of gear in my life but never have I been satisfied with trying everything I was interested in, let alone in one place at one time, until this boat purchase. You  allowed me to try every boat  you sell and objectively compare all the different manufacturers boats I had been looking into.   Additionally, I appreciated your honestly and objectiveness in describing all the differences, with advantages and disadvantages included, for the different boats. Between being able to try all the boats, and your summaries, I felt knowledgeable enough to make the best decision on which boat was best for my needs. I am so satisfied with my boat, oars and lesson  that I just wanted to let you know that.  Thanks again,  M.C. McGuire, NYC, NY  P.S. I do have one suggestion for you.  You do not need to describe Adirondack Rowing as a humble company.  Since you are the only company  offering a "try before you buy" policy  and offering customers the option to row every boat you sell, I am confident all your customers receive the best boat  for their needs.
Pete, you all were great at spending time with us on transforming our Horizon from a rowing miserable experience to an enjoyable rowing activity.  We could not even find parts for it that we needed to make it rowable again.  The sculling instruction that you gave us last weekend went right along with the changes that you made to the seat height, the rigging, oar button adjustments and height of the made our Horizon feel like a totally different boat.  We are very happy and we know how it get the most out of our boat and out of sculling too.  Can't that you enough. J. McKisic. Catskill, NY.
Pete, thanks a million for the great experience you gave us helping us choose the right shell and especially for the great lesson time.  No part of our experience with you was less than totally exact and efficient.  You guys are the best . M. McLurdy. Potsdam, NY.
Pete, Just a little "Thank you" I found at an internet book store I found for you for being such a great instructor for Audrey and I.  We had a blast and at the same time learned a ton . . . . Thanks again, D. Terwilliger. Schenectady, NY.
Pete and Karen, It was super to work with both of you on the phone to choose the best double shell for our needs.  Every communication, as well as the overall services and delivery of our shell, was very professional and timely.  You acted like we were next door in how fast you answered our questions and served our needs here in Philadelphia!  We will not hesitate to send other scullers your way . B. Mitchell, Philadelphia, PA.
Pete, Thank you so much for the extra efforts you made on my behalf to fix up the Oarmaster.  You have helped to make the last five years of my life a great experience in healthy fun.  When I called years ago inquired about an appropriate boat, Pete you asked all of the right questions about the lake water, my rowing experience, etc. and recommended equipment that would make me happy and it did.  The Alden 16 has been perfect when the river boats are present or the wind pick sup.  Thank you again for your guidance.  SO, if you were wondering if you have done your good deed today, rest assured that you have done that and then some.  I credit you as part of the team of people who not only saved my life from cancer, but made it so enjoyable for me.  And, . . I sing your praises to anyone who asks about my little boat.  Thank you! M. Petrie
I still enjoy greatly the two shells you sold us.  The Wherry remains up at Lake St. Catherine, and I row essentially every other day while I am up here.  I go out and row on a regular basis and greatly enjoy it.  You will remember we rowed from our cottage up to another cottage one day.  I regularly make that distance, but making it the rest of the way up to the end of the lake is too much.  On the rare occasions when someone else joins me, we fly!  All this is to say I greatly enjoy rowing, and would not be doing it without your expert help.  I greatly appreciate the gracious encouragement and expert advice you extended to me.  Thank you ever so much.  D. Greer, Texas
Or Call Us! 518-745-7699 (ROWW)