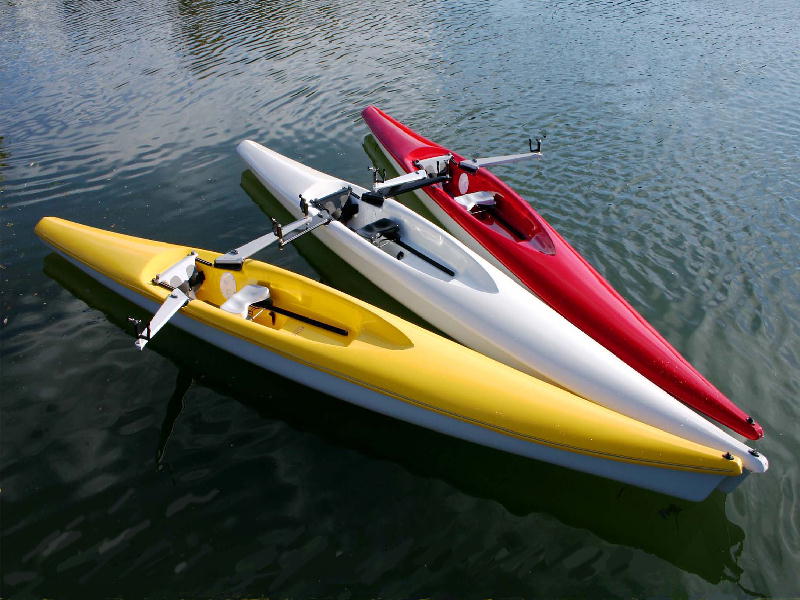 If you like to row distance, check out the Echo Islander, or if you prefer the sporty look, check out the Echo Sport!
Deceptively simple in appearance, the Echo Classic integrates numerous functions within its flowing lines. The Echo's streamlined hull is easily rowed in flat water while the 21″ waterline beam is reassuring and stable in rough water. The Echo will rise and skim like a powerboat when pushed by a strong rower leaving a remarkably small wake at normal rowing speeds. The long molded keel gives directional stability even in surfing conditions and makes for easy beaching without fear of damage. The baidarka type bow and rolled gunwale keep the rower dry in the roughest conditions.
The Echo hull and deck are designed around the unique folding rigger system,. The Echo is always completely rigged. It is easily stored and transported by folding the riggers over the seat and securing them with the attached straps. Just unfold the "E" clip and then clip the riggers in place and row. It couldn't be easier! When the riggers are folded over the shell and held in place by the built in security strap, it locks the seat and riggers from moving. The Echo is easily carried by using the riggers for hand holds.
Specifications:
Length: 18 feet
Waterline Length: 17′ 3″
Beam on Deck: 26″
Beam at Waterline: 21″
Hull Weight: 55 – 58 lbs
Capacity: 260 lbs
Fiberglass – vacuum-bagged with foam longitudinal beam 
Equipment:
Echo Folding Rigger System – composite construction with Concept II locks
Wood Clog Foot stretcher
Fiberglass Seat
Over 5 cubic feet of storage fore and aft
Rigger restraining strap – orange buckle doubles as Coast Guard approved whistle
Built in suction bailer (standard)
Seat (fiberglass and foam composite)
Carrying handles built into bow and stern
Two 12′ pieces of line for tie down or tying to dock
Two portals, one on each side of the cockpit.
Internal keel that is a must for directional stability and ease of beaching

Pricing:
   Do you have to trailer your Echo to the water? Check out the Trailex Trailers.
These trailers are lightweight and easy to manage. Perfect for towing!
Do you need a boat rack or slings for storing your boat, or a boat dolly to move your boat around? 
Take a look at the our Rowing Accessories Page!
Or Call Us! 518-745-7699 (ROWW)